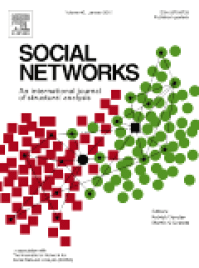 Here are the details of the publication:
Boda, Zs., Néray, B. 2015, Inter-ethnic friendship and negative ties in secondary school. Social Networks, Volume 43, October 2015, Pages 57–72. link here
Abstract
This paper investigates several different aspects of inter-ethnic relationships. It focuses on friendships and negative ties between secondary school students from different ethnic backgrounds, introducing and measuring two different aspects of ethnicity: self-declared ethnicity, and ethnicity based on peer perception. These are first applied separately and then together on a sample of secondary school students in Hungary consisting of two ethnic groups: Roma and non-Roma Hungarian (N = 420). Friendships and negative ties are modelled using cross-sectional exponential random graph models for sixteen classrooms separately, and then individual models are summarized using meta-analysis. Based on the social identity approach, we predict that inter-ethnic friendships are less likely, and negative ties are more likely, than those within ethnic groups; and that majority students reject their minority peers more than the other way around. Moreover, minority students are expected to exclude those whom they perceive as minorities, but who, at the same time, identify with the majority group, since these classmates might seem to them as "traitors" of their "original" ethnic group. Results mostly confirm our hypotheses, emphasizing the role of perceived ethnicity: majority students tend to dislike peers whom they perceive as minorities, regardless of these peers' self-declared ethnicity; on the other hand, minority students are likely to send friendship nominations towards their perceived minority classmates if these also declare themselves as minorities, but, as predicted, negative nominations if these declare themselves as majorities. This supports our general idea that different ethnicity aspects might influence friendships and negative ties in different ways, and inconsistencies in someone's ethnic categorization might play an important role in social rejection.