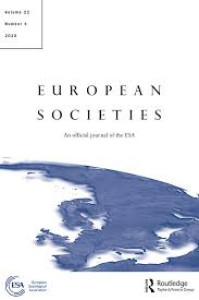 The article "The impact of COVID-19 on the gender division of childcare work in Hungary" by Éva Fodor, Anikó Gregor, Júlia Koltai and Eszter Kováts has been published in European Societies.
Available here: https://doi.org/10.1080/14616696.2020.1817522
Abstract
As most other EU countries, Hungary implemented severe lockdown measures during the pandemic, including the closure of the schools and childcare facilities. This meant that for several months a vastly increased volume of childcare had to be supplied by individual households without much institutional help. In the end of May 2020, we conducted a representative survey in Hungary to find out how the pandemic affected the gendered division of these childcare duties. We found that on average, in relative terms, men have increased their contributions at roughly the same rate (by 35 percent) as women. But given that women had been doing a lot more childcare work before the pandemic, in absolute terms, women's contributions grew significantly more than men's and the gap between men and women has increased in absolute work hour terms. This was particularly so among a specific group of women: middle class, highly educated city-dwellers. Our data suggest that in Hungary the pandemic increased gender inequality the most among the highest educated.